Medals & Awards

World War 1

Standard Medals Issued During World War One (from left to right)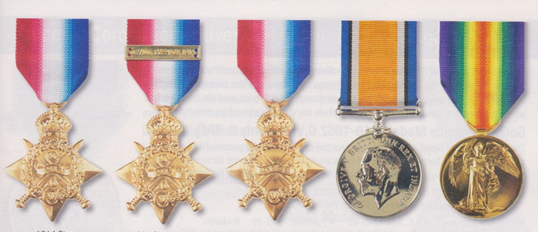 1914 Star - Issued to all service personnel who served in an active war zone between August 5th  and November 1914 but did not come under fire.

1914 Star with Bar - Issued to all service personnel who served in an active war zone between August 5th and November 22nd 1914 who came under enemy fire.

1914-1915 Star - Issued to all Service personnel who served in an active war zone between August 5th  1914 and December 31st 1915 but not to those who had already qualified for the 1914 Star, Africa GSM or Sudan 1910 Medal.

1914-1918 War Medal - Issued to British & Imperial forces who served in active theatre of war for a minimum 28 days or on deployment overseas i.e. India.

1914-1919 Victory Medal - Issued to all who received 1914 or 1914-15 Star and to most who were awarded the War Medal Women qualified for this and the War Medal and Star for service in nursing homes and other Auxiliary forces.

Decorations The Military Cross The Military Medal Those shown are for our Present Monarch. All Medals that carry the Monarch's Head or insignia bear those of the ruling monarch when issued


The Territorial Force Medal
Established in 1920 The territorial force medal was awarded to members of the territorial force and territorial nursing service who served overseas during world war one and had volunteered to do so  before 30th September 1914.

The Mercantile Marine Medal

The Mercantile Marine Medal awarded by the Board of Trade to the members of the Merchant Navy for one or more voyages through a danger of war zone during World War One.


Military Cross
Military Cross Instituted 1914 for gallantry to Warrant and Junior officers of the army it is the 3rd highest decoration for gallantry. Now issued to all ranks and branches.

Military Medal

Military Medal Instituted 1916 the medal is considered to be the other ranks equivalent to the military cross. It is not issued today as the Military Cross  is now issued to all ranks

World War 2

Various criteria was used by each of the armed forces to qualify for an award, but service personnel, Police, Fire, Ambulance, Civil Defence and Auxiliary personnel including the Home Guard would be entitled the Defence Medal and War Medal 1939-45.

Merchant seamen and fishermen also qualified for these and the stars. The Arctic Star was not instituted until 2013 but after much pressure the ministry of defence agreed to recognise the bravery of those serving in the arctic campaign during WW2 along with bar for Bomber Command to recognise their sacrifice. Where a Medal has a bar issued only one bar may be warn even if more than one has been earned, when a bar is issued it is to recognise the other star.(example Burma Star won Pacific Bar issued to recognise you had qualified for Pacific Star).The maximum number of stars allowed to be issued to one person is five.

Where a person is mentioned in despatches a bronze oak leaf would be sown on the ribbon of War Medal, a civilian receiving the King's Commendation a spray of silver laurel leaves would be sown on the Defence Medal.


1939-45 Star
Battle of Britain Bar

Bomber Command Bar


Atlantic Star
Air Crew Europe Bar

France & Germany Bar


Air Crew Europe Star
France & Germany Bar

Atlantic Bar


Africa Star
8th Army Bar

1st Army Bar

North Africa 1942-43 Bar


Defence Medal


Arctic Star

Pacific Star
Burma Bar


Burma Star
Pacific Bar


Italy Star
No Bar


France Germany Star
Atlantic Bar


War Medal 1939-45