SERGEANT 13009 EUSTACE DAVID WILLIAM FRASER

FEDERATION of MALAY STATES VOLUNTEER FORCE

1912 – 1942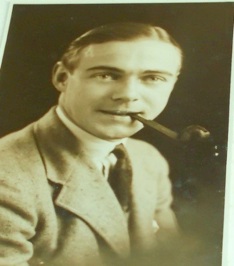 Eustace (known as Bill) was born on 3rd December 1912 in Richmond, Surrey to Cecil Eustace William Fraser M.A. and Nora Cecily Fraser née Mustard who were married in September 1911 in Kensington, London. He was one of three boys; his siblings were his twin brother, Douglas Cecil Andrew, and their younger brother, Raymond Kenneth Joseph, born in March 1920 in Bromley, Kent. Their father, Cecil, was born on 12th August 1876 in Clapham, London and worked as a solicitor's articled clerk in the early 20th century before eventually becoming a solicitor. He served in the Royal Field Artillery Territorials throughout World War One and rose to the rank of Major. He died on 12th November 1947 in Ipswich. Their mother, Nora, was born in Hingham Norfolk on 31st March 1891; she was a rector's daughter and died in Folkestone, Kent in March 1976. During World War Two the family lived in Nursery House, Capel St Mary, next to the Garden Centre before moving to Uplands Fruit Farm opposite Bentley Church.
Bill had been employed in insurance until 1937 when he went over to Malaya to work as assistant planter for Jalan Acob and Newbury Estates in Kapar Selangor, Malaya. His brother, Douglas, also went to Malaya as a planter, working on the assistant estates staff to Socfin Co Ltd Kuala Lumpur at Sungei Ular Estate in Kedah Malaya.

Both Bill and Douglas joined the Federation of Malay State Volunteer Force, Bill with the Selangor Battalion and Douglas with the Kedah Battalion attached to the Malay Volunteer Air Force.

Bill was shot by accident while resisting the Japanese invasion and died on 10th January 1942. He was originally buried on the beach and later reburied in Cheras Road Civil Cemetery, Kuala Lumpur. He was the first of two brothers to die; his younger brother, Raymond, was killed in September 1942. His twin, Douglas, survived the War and married Dorothy Joyce Carter née Grenier on 14th July 1946 in St Andrews Church, Kuala Lumpur. She was the widow of Captain Carter who was killed in 1942 in Singapore. Douglas died in Pwllheli, Wales on 22nd April 1976 and his wife died on 9th January 1995 leaving an estate of £616,453.

Bill is remembered with Honour in the Cheras Road Civil Cemetery, Kuala Lumpur, Malaysia Grave 6; he is also remembered on Bentley War Memorial, on a plaque in Bentley Parish Church, in the Book of Remembrance in Capel St Mary Parish Church and on the Roll of Honour at Charterhouse School, Surrey.

Bill would have been entitled to:

•1939 – 1945 Star


•Pacific Star


•Defence Medal


•1939 – 1945 War Medal