SAPPER 23389 HARRY FRANK CHIVERTON

ROYAL ENGINEERS

1894 – 1915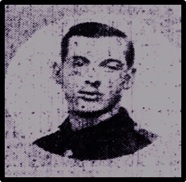 Harry Frank Chiverton was born July 1894 in Capel St Mary Suffolk, and was Baptized as Henry Frank Chiverton in the Parish Church of St Mary the Virgin Capel St Mary on 30-9-1894, he was one of nine children 2 died as infants born to Thomas Luke Chiverton & Rhoda Carr Chiverton Nee Richardson of the Street Capel St Mary. Thomas & Rhoda were married in Capel Parish Church on 6th February 1875, Their first surviving child Anna was born in 1881 and became a dressmaker ,their second John and third Jack were born in 1883 followed by Frederick in 1884 Charles in 1887 William in 1890 and Harry in 1894. His father Thomas was an agricultural laborer born circa 1851 in Capel St Mary and died in 1902 aged 51, he was buried in Capel Parish Church on 19-11-1902 his mother was born Rhoda Carr Richardson circa 1850 also in Capel St Mary and was employed as a housekeeper, she died in1924 aged 74 and was buried in Capel Church on 18-2-1924.
Harry along with his siblings was educated at Capel St Mary School.

He enlisted as Private 981 Suffolk Regiment and later transferred to 56 Field Company the Royal Engineers becoming Sapper 23389 Chiverton. Before joining the Army he worked as a Carpenter. He died of wounds received during the second battle of Ypres on 2 May 1915 in Belgium. His elder brother Sergeant Charles Chiverton of the Royal Garrison Artillery had been awarded the Military Medal earlier that year. Harry is remembered with Honour in Dickebusch New Military Cemetery, his Memorial is D20, he is also on a brass plaque in Capel St Mary Church.

Harry was posthumously awarded:

•1914-1918 British War Medal


•1914-1919 Victory Medal

His Next of Kin would also have received the Memorial Plaque and Scroll