PRIVATE 6013679 HARRY WALTER BURCH

SUFFOLK REGIMENT

1919 – 1943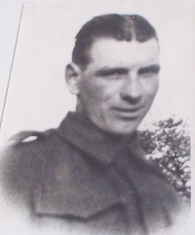 Harry was born 15th February 1919, one of eight children all born in Hartismere Suffolk. His parents were James (known as John) Frederick Burch b1895 Bosmere, Suffolk, d1955 Capel St Mary, Suffolk and Olive Annie Jubilee Burch née Riches b1897 Rickinghall, Suffolk, d1984 Ipswich. They married in Hartismere in 1918. John worked as a horseman on various farms around Suffolk.
Harry's siblings were: Doris Ethel, b 3 July 1920 d1977 in Ipswich; Ivy K, b1921 d1942; Grace Ellen E, b1923 m Arthur Edward Catherine 1945 in Wandsworth, London. (They had two children, Grace d1989, Arthur d2006 both in Chesterfield); John R, b1927 d1929 Hartismere; Albert T b1929 m Mollie Kathleen Tatum 1951 Samford District Suffolk. (They had three children); Alfred John b1932 m Sylvia Chittock 1950 Samford District, Suffolk . (They had three children); Dennis William b1935 m Stella M Game 1963 and they had one child Dennis d2005 Brentwood, Essex. At the start of World War Two the family were living at 1 Bluegates Cottages, Bluegates Lane, off Old London Road, Capel St Mary.

Before Harry enlisted in the Suffolk Regiment, he was employed as a farm labourer. After enlistment and training, Harry was posted to the 4th Battalion and sent to Singapore. At the surrender of Singapore, the Japanese took around 100,000 prisoners, a mixture of British, Australian and Indian troops which included Harry's Battalion and the remainder of the 5th Battalion of around 650 men, plus some local civilians. Most including Harry would die working on the Siam Burma Railway.

Harry died 12th September 1943 in Tambaya Prison Camp, Burma.

He is remembered with honour in Thanbyuzayat War Cemetery Grave B1. M12, and in the Book of Remembrance, St Mary's Church, Capel St Mary, Suffolk.

Harry would have been entitled to:

•1939-1945 Star


•Pacific Star


•1939-1945 War Medal