SERGEANT 2323481 KENNETH TRIP REYNOLDS

ROYAL CORPS OF SIGNALS

1915 – 1945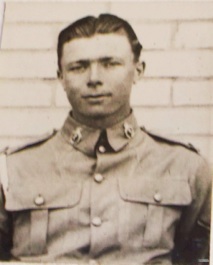 Kenneth was born 3 December 1915 in Bentley Suffolk, his parents were William Gladstone Reynolds b1886 Bentley Suffolk and was employed as a Farm Bailiff he married Gertrude Alice Tripp on 16 October 1909 and died 14 November 1932 in Capel St Mary Suffolk he was buried in St Mary's Church Capel on 19 November 1932, his wife Gertrude was born 24 April 1886 in Ipswich Suffolk and died 1968 in Capel St Mary she was buried 21 August 1968 in St Mary's Church Capel St Mary.
Kenneth was educated in Capel St Mary C of E School and Felixstowe Secondary School where he gained his School Certificate in six subjects this was the forerunner of the GCE O Level Certificate. After leaving school on 22 December 1932 Kenneth had been employed as a farm worker. He had three siblings, Raymond William Reynolds born 11 April 1910, who married Margery Edith Coppen 18 February 1939 in St Mary's Church Capel they had three children, Michael Raymond Reynolds, Bernard Phillip Reynolds, Gillian Margery Alice Reynolds. Percy George Reynolds born 28 January 1912 never married and Rosemary Gertrude Reynolds born 1924 married Herbert Clarke 11 October 1947 in St Mary's Church Capel they had one child Margaret Rosemary Clarke.

Kenneth joined the Army sometime in 1933 and served in The Royal Corps of Signals and was sent to Egypt at the outbreak of the Italian-Abyssinian War, he was then drafted to Palestine at the time of the Arab-Jewish riots. At the outbreak of World War Two he was back in Egypt and served through the Libyan Campaigns where he was twice mentioned in Despatches (see below). He returned to England after 8 ½ years service abroad, his experiences had undermined his health and he was sent to Black Notley Military Hospital, in Essex. In March 1944 he was sent home to The Elms Capel St Mary, but never regained his health and after much suffering passed away on 3 May 1945, and was buried in Capel St Mary's Church 7 May 1945.

Mentioned in Despatches:

•1st April 1941 as Lance Sergeant Reynolds.


•London Gazette 35120/Supplement 1872.


•8th July  1941 as Acting Sergeant Reynolds


•London Gazette 35209/Supplement 3886. 

A mention in despatches is the lowest form of recognition for an act of gallantry or outstanding service and is recognised by the wearing of a bronze oak leaf worn on the ribbon of the 1939 – 1945 War Medal.

Kenneth is remembered with Honour in the Honour Book in St Mary's Church Capel St Mary Suffolk.

Kenneth was awarded:

•General Service Medal Palestine Clasp


•1939 - 1945 Star


•Africa Star


•Defence Medal


•1939 – 1945 War Medal