PETER EDWARD MEAD HARRIS

TBC

1925 – 1950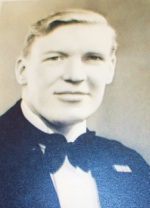 Peter Edward Mead Harris was born in South Court nursing home Broadstairs Kent on 3 Oct 1925 he was the son of Robert  and Bessie Harris nee Halfnight, who were married 18th January 1917 in Thanet Kent he had a younger brother William who was born  c1930 in the Samford District.
His father Robert Edward Meade Harris was born 12 Dec 1886 in Bury St Edmunds Suffolk, he joined the Royal Navy at seventeen on 15th September 1903 as a Midshipman promoted to Sub Lieutenant in 1906 and finely to Lt Commander in July 1917 He Served on Capel St Mary Parish Council for several years before his death at the age of 60 in Pound Cottage Capel St Mary on 29 March 1947. His mother Bessie was born  on 25th  July 1895 in Sunderland, between 1905 and 1911 she lived in Montreal Canada and died 7 May 1979 Ipswich.

Father  & Mother are both buried in St Mary's Church Capel St Mary.

Peter Served in the Royal Navy during World War 2, he had enlisted in 1944 and saw action in the Pacific and Burma theatres of war as a pilot, He was serving on HMS Glory when he died in flying accident in the Mediterranean Sea 27 Sep. 1950 flying a Sea Fury of 804 Naval Air Squadron during the ships work up following the outbreak of the Korean War on June 25th 1950 the ship was eventually Deployed to Korea April 1951.

H.M.S. Glory was launched 1943 the ship saw active service in WW2 and Korea and took the surrender of Lt. Gen. Imarura  Commander of the Army of Japan at Rabaul in Papua New Guinea on 6th September 1945.

Peter has no Known grave but the sea but is remembered with Honour in the Remembrance Book St Mary's Church , Capel St Mary.

For his war service Peter had been awarded:

•1939 - 1945 Star


•Burma Star with Pacific Bar


•Defence Medal


•1939 - 1945 War Medal