2ND LIEUTENANT 308253 PHILLIP RUSSELL PELLS

ROYAL TANK REGIMENT

1924 – 1944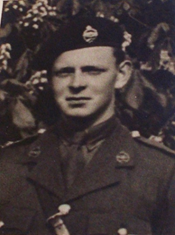 Phillip was born in 1924 in Ipswich, Suffolk to Arthur George Pells and Florence Pells née Martin who were married on 22nd August 1909 in East Dereham, Norfolk. His father, Arthur, was a brewer's manager, born on 17th January 1887 at Eaton, Norfolk; he died on 16th March 1962 in Felixstowe. His mother, Florence, born in 1888 in Guist, Norfolk, worked as a domestic servant; she died in Ipswich, Suffolk on 3rd January 1930. Phillip was educated at Ipswich School and is remembered on their School Chapel Memorial. At the time of his death they were living in Hill House, Capel St Mary.
Phillip was serving with the 3rd Royal Tank Regiment as part of the Royal Armoured Corps. They landed in Normandy on D-Day + 5 and were engaged in heavy fighting, battling through the bocage of high hedges and banks. In the following days they prepared for Operation Epsom, the first attempt to break the German stronghold at Caen between 26th and 30th June 1944. It failed but did force the Germans to commit their reserves; Caen was eventually taken in July. The 3rd Royal Tank Regiment were next engaged in Operation Goodwood, the allied attempt to break out of Caen. It began with the advance by 3 Armoured Divisions with approximately 1,000 tanks and 2 Infantry Divisions with approximately 40,000 men on 18th July and would last for 3 days. Despite initial success in clearing German forces, Operation Goodwood finally ground to a halt with high casualties, having lost 314 tanks and with casualties of 3474 men. Phillip had been killed in action on the 18th July 1944, the first day of Operation Goodwood, at the age of 19.

Phillip is remembered with Honour on the Bayeux Memorial, France Panel 8 Column 2 and on the Ipswich Memorial Panel 8. He is also in the St Mary's Church Book of Remembrance, Capel St Mary, Suffolk.

Phillip would have been entitled to receive:

•The France and Germany Star.


•The 1939 – 1945 War Medal.