LIEUTENANT 75565 RAYMOND KENNETH JOSEPH FRASER

QUEENS ROYAL WEST KENT REGIMENT

1920 – 1942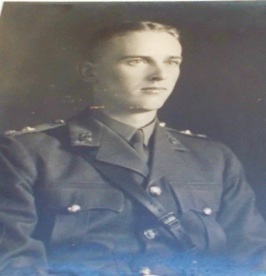 Raymond was born in March 1920 in Bromley, Kent to Cecil Eustace William Fraser M.A. and Nora Cecily Fraser née Mustard who were married in September 1911 in Kensington, London. He was the youngest of three boys; his siblings were his twin brothers Douglas Cecil Andrew and Eustace (known as Bill) David William who were born on 3rd December 1912 in Richmond, Surrey. Their father Cecil was born on 12th August 1876 in Clapham, London. He worked as a solicitor's articled clerk in the early 20th century and eventually became a solicitor. He had served in the Royal Field Artillery Territorials throughout World War One and rose to the rank of Major. Cecil died on 12th November 1947 in Ipswich. Their mother, Nora, was born in Hingham, Norfolk on 31st March 1891. She was a rector's daughter and died in Folkestone, Kent on 23rd March 1976. During World War Two the family lived in Nursery House, Capel St Mary next to the Garden Centre, before moving to Uplands Fruit Farm opposite Bentley Church. All three boys were educated at Charterhouse School and served during World War Two. While serving with the Federation of Malay States, Bill was killed fighting the Japanese. Douglas also served with the Malay states but survived the war. (See Bill's story for more information).
Raymond was serving as a Lieutenant with the Queen's Own Royal West Kent Regiment attached to the 1 / 1st Battalion King's African Rifles who were engaged in the fighting to take control of Madagascar from the Vichy French. The operation was a success but Raymond was killed in action on 16th September 1942. The battle for Madagascar was a two-stage campaign to seize the island. The first objective was to seize the ports in the north and to deny them to the Japanese. Stage one began on 5th May 1942 and the second stage began on 10th September. Both stages were a success. It was the first combined campaign of WW2 involving sea, land and air forces.

Raymond is remembered with Honour in the Diego Suarez War Cemetery, Madagascar Grave 2.B.5. He is also remembered on Bentley War Memorial, on a plaque in Bentley Parish Church, in the Book of Remembrance in Capel St Mary Parish Church, and on the Roll of Honour at Charterhouse School, Surrey.

Raymond would have been entitled to:

•1939 – 1945 Star


•1939 – 1945 War Medal.